Discover 31 Done-for-You Metabolic Bootcamp Finishers GUARANTEED to Eliminate Boot Camp Boredom, Deliver SHOCKING Results, AND Build a Loyal Client Base
This Plug-and-Play System is a Client Magnet
It's Finishers Like These That Also Helped Me Lose 105 pounds.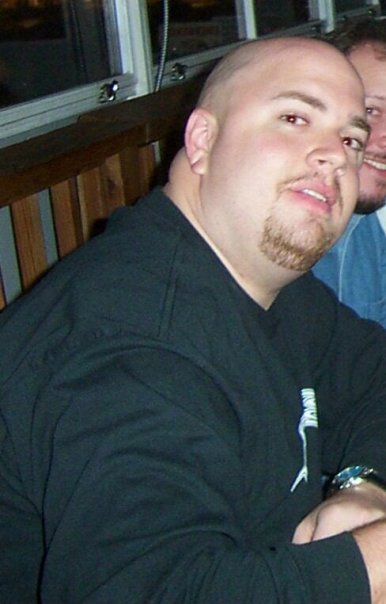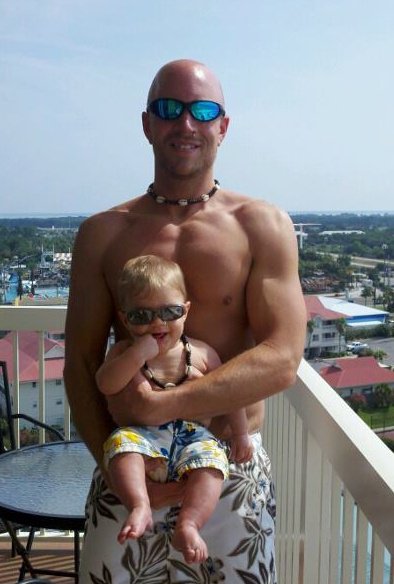 Mike Whitfield, CTT, before using Finishers and after using Finishers
Dear SERIOUS Bootcamp Coach,
This hot, powerful new method used by the best coaches in the world is something you can plug into YOUR bootcamp program right now to literally explode your campers' retention AND referrals.
The best part? They skyrocket your campers' endurance and conditioning while busting even the most stubborn plateau.
It will have your campers so pumped, you will regret that you haven't used this super-intense and ADDICTING method sooner to drop pounds of fat from your campers and have them raving about you generating a huge buzz and dozens of referrals every week GUARANTEED.
Why Am I Sharing This With You?
I was hideously fat… as in 300 pounds. I wore 46" pants and XXXL shirts. Much LIKE your campers, I struggled with my weight.
One day, I had enough, in which I'm sure you can relate with your campers. They get that "No more, EVER again" mentality just like I did. I went to war.
I went into battle against my body fat and won… with a vengeance.
I was inspired to help others into action, just like YOU.
But I struggled at first, just like many of your campers.
There were times I would start a workout regimen and simply give up because I never saw a difference in the mirror or on the scale.
I'm sure you have seen this in your bootcamp business.
You would have a potential camper that is excited about starting and wants to lose 20 pounds… but they disappear after just a few weeks because they weren't getting results fast enough.
Honestly? I gave up, too. I was bored and tired of struggling.
Fortunately, I scratched and clawed my way to losing 105 pounds of nasty fat as I shrank my waistline by 14 inches and I became addicted to working out (just like you wish YOUR campers did).
Let's face it. If your campers were addicted to working out and looked forward to each and every session, you would have NO problem with client retention.
Here's How to Tell If Your Campers Will Be Coming Back
Do your campers look and feel lighter than ever before, with a pep in their step, and raving about your crazy and fun ways to finish a workout?
Do your campers consistently develop a lean, athletic and chiseled look, even if your competition down the street performs the EXACT same workout programs?
Do you find your campers seeing a difference in their every day functions like going up and down stairs effortlessly

AND

they tell you about it?
Do they constantly bring new friends just because of the buzz without any special promotion, but just because of what YOU bring to every session?
If This Isn't You as a Bootcamp Coach, That's My Fault.
I've been so focused on helping MY training clients and campers lose fat and win $4,500 in the TT Transformation Contests, I never took the time to help you, the serious bootcamp coach who wants to make a difference and separate themselves from the competition, just like I have.
You see, I was constantly full and I could no longer take on anymore clients into my camps. The crazy part?
I hardly EVER marketed my bootcamp.
98% of my business was based on referrals ONLY.
Look, your campers have lost some weight so far, and I understand that takes hard work, so congratulations on their success and YOUR coaching.
But you find your camp missing something other than more campers. It needs a spark.
It's been 3 weeks since you have seen a change on the attendance from your camp and you find some of your campers a little agitated they haven't lost that much weight, yet you're coaching them well.
Your campers can't seem to come on a consistent basis because they know what to expect and are getting burned out.
You're concerned, and I can relate to that and I understand. I've been there, too.
Look, you need your campers to step out of their comfort zone and realize their potential. That's why they hired YOU.
This Powerful Fat Burning Method is Consistently Used by the Best Coaches in the World, But Is It Right For YOUR Bootcamps?
My Metabolic Bootcamp Finishers are NOT a "magic potion". They are physically and mentally challenging as well as demanding.
But here's the good news – they are ADDICTING.
Here is How Metabolic Finishers Will Impact Your Bootcamps:
These workout "grand finales", which can be plugged in with

ANY

workout, will require your clients' best effort and promote teamwork, creating a community, which is a client magnet on autopilot.
You'll pick a new crazy and unique set and rep scheme finisher at every workout, which will keep your campers coming back day after day.
Your campers will rave about these finishers to their friends, family and all kind of social media, giving you literally hundreds of FREE referrals.
Get THREE Addictive Done-for-You Bootcamp Metabolic Finishers Programs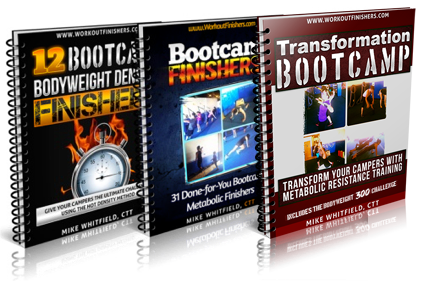 $136.98 Only
$29.99

Who This Program is
NOT

For
If you don't like coaching bootcamps or you like to run laps in a circle and not challenge your campers, this program isn't for you.
If you don't like promoting a fun and

ADDICTING

environment
If you are someone not willing to learn some unique but very effective metabolic finishers that can bust any camper's weight loss plateau without any crazy diets.
But if you are a bootcamp coach that cares about your clients' results, wants to see a drastic increase in client attraction and retention, while watching your campers drop pounds of fat week after week, The Done-for-You Bootcamp Metabolic Finishers program is what you've been waiting for.
It's the EASIEST marketing tool you could ever put into your bootcamps.
Expect your campers to stick around for a long time just like these expert coaches have:
Amazing workouts this week at Daphne Fit Body Boot Camp! Awesome energy, enthusiasm, and lots of fat crying!

I can't forget to mention some of the awesome finishers we did as well, "The Deuce is Loose", "Super Stars", and today's "Just Konging Around" were killer!!! Fit Bodians, ya'll can thank my buddy Mike Whitfield for his creativity in coming up with these "fun" ways to boost metabolism at the end of a workout :)

Steven Hadley
Daphne Fit Body Boot Camp

We have loved them! My clients love the intensity and variety of the finishers! It helps make the 30 minute workouts super intense and effective. And I love being able to copy/past finishers to our workouts with confidence that they will be effective, because they were designed by you!

I love how you have mixed it up and added new exercises and new time and rep designs to this set of finishers. Thank you so much Mike!

Stephanie Flynn
Tulsa Fit Body Bootcamp, OK
"We have used Boot Camp Finishers for only 7 days and my clients are LOVING IT! Every day they are coming up to my instructors and asking them what the finisher of the day will be. We are so impressed with this concept of a "boot camp finisher" that we are permanently integrating this program into our current boot camp format. Finishers are a great way to mix up the end of class conditioning. Clients are feeling great because of the finishers and they will definitely help accelerate their results in half the time. This is a MUST HAVE for any successful boot camp!"

Brian Kalakay
Xtreme Results Boot Camp
Lapeer, MI
"Boot Camp Finishers have been a great addition to our Boot Camp workouts. Each finisher is challenging yet doable for any fitness level as the individual can modify or intensify as needed, so regardless if you are new to working out or in the best shape ever you can feel accomplished. There are so many finishers to choose from and they are all equally amazing. Our members really love eeking out that last bit of energy and sweat to end their workout. Using Mike's Boot Camp Finishers has really added an entirely new dimension to our boot camp training sessions. Since using this product we have gotten a lot of great feedback from members thanking us for intensifying the workouts.. We have Mike to thank of course and give all the credit to him. I would recommend Boot Camp finishers to anyone who really loves a good challenge and looking to take your training to a whole new level"

John and Cara Eckerman
FitBody Bootcamp
Chino Hills, CA

A great ,fresh addition to any bootcamp program for both the trainer as well as the camper! A definite win-win-winner! Any serious bootcamp coach will grab this to easily bring in more campers and explode their business. The campers loved the challenge!

Georgette Pann
http://thefitnessbootcamp.com

What if My Clients Already Love My Bootcamp Workouts?
Don't start a whole new workout program all over again. Simply plug these in at the end of your favorite workouts. Choose a new one with every workout and your campers will rave about you, bringing in more and more people.
If you want just a glimpse of the chaos that will finally bring in hundreds of FREE referrals, try this big hit of a finisher that over 50 trainers and bootcamp coaches experienced at the TT Summit:
The Infamous "3's Company" Bootcamp Finisher
Do the following circuit as many times as possible in 3 minutes. Tell your campers to simply rest when needed, but the clock will continue to tick.
1A) Lunge Jumps or Split Shuffle (3/side)
1B) Burpee/Spiderman Pushup Combo (3)
1C) X-Body Mountain Climbers (3/side)

As you can see, these finishers only take minutes, and they kick the pants off of cardio, and they take just a fraction of the time that intervals take.
But more importantly, your campers will LOVE the challenge, coming back for more bringing their friends and building your bootcamp empire.
That's Just ONE of the Bootcamp Finishers You Get to Attract MORE Clients than You Can Handle…
The Bootcamp Finishers System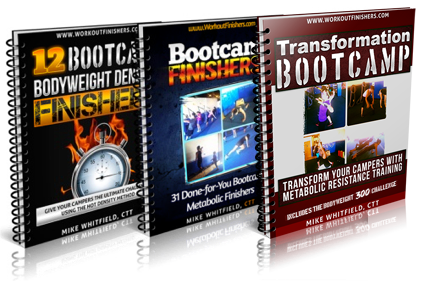 $136.98 Only
$29.99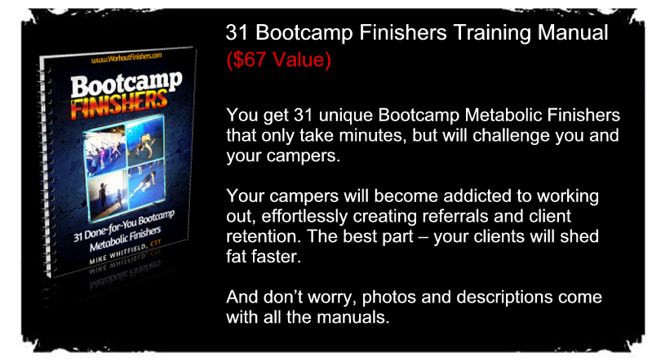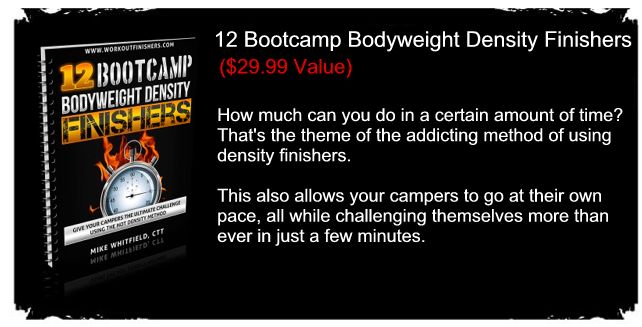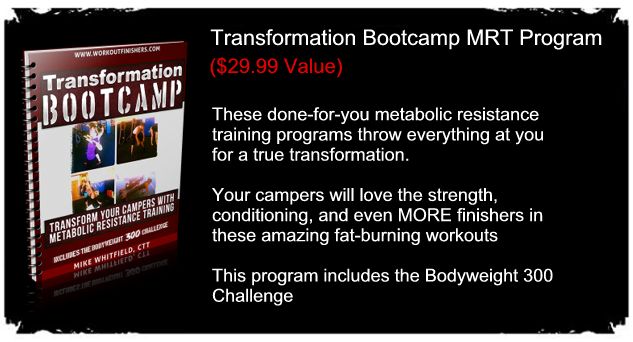 I'm giving you a done-for-you system that you literally plug in with YOUR favorite bootcamp workouts, transforming your campers bodies and minds, while getting dozens of referrals every week.
When sold separately, the total value of these Addicting Bootcamp Programs is $136.98. But with this special promotion, you can get EVERYTHING you see above for only:
Get THREE Addictive Done-for-You Bootcamp Metabolic Finishers Programs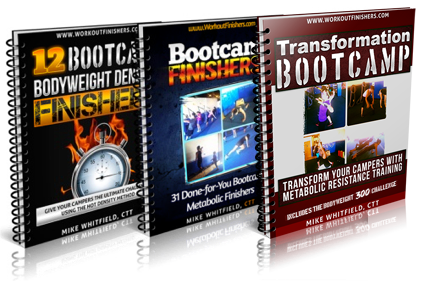 $136.98 Only
$29.99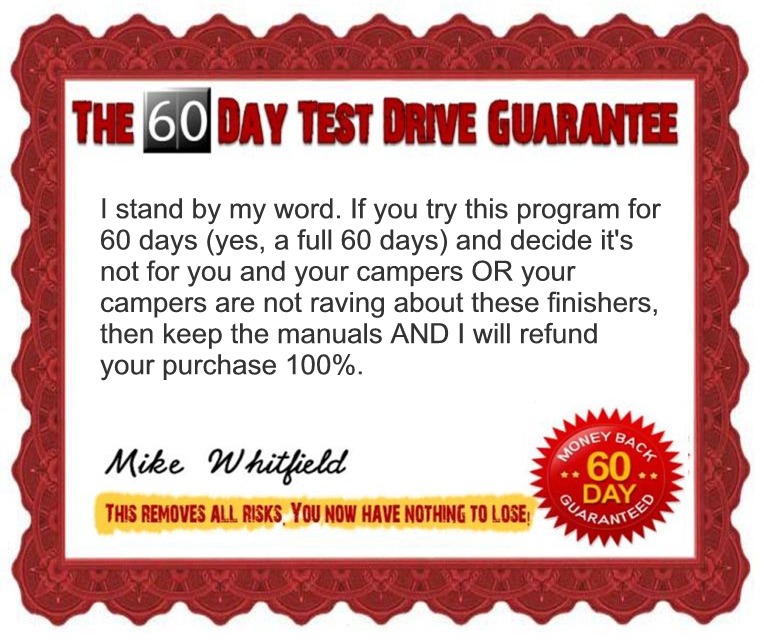 Alright, it's time to get your campers addicted and build YOUR business,
Finish strong,

Mike Whitfield, CTT
P.S. You have no risk and nothing to lose. If you are not 100% satisfied, I'll promptly refund every single penny AND you can keep the bonuses.
P.P.S. If you are hesitant on investing in yourself and committing to being the BEST bootcamp coach you can be, you are not ready and I completely understand. It takes a special individual to take action on a program like this.
When sold separately, the total value of these Addicting Bootcamp Programs is $136.98. But with this special promotion, you can get EVERYTHING you see above for only:
Get THREE Addictive Done-for-You Bootcamp Metabolic Finishers Programs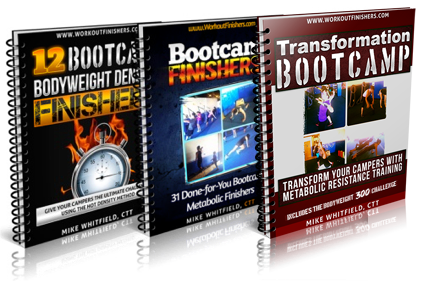 $136.98 Only
$29.99

If you have any questions about the Bootcamp Finishers program, please email me at mike@workoutfinishers.com. Although a response is given much sooner, please allow 48 hours for a reply.
Frequently Asked Questions About this Program
Q: Can I use these as my primary workouts?
A: If your bootcamp offers "express" workouts, these are perfect. I've also assigned these finishers as "homework assignments" for my clients with great results.
Q: Can I Use These Finishers Even if I'm not Participating in a Bootcamp?
A: If you're looking for minimum equipment finishers, than yes, you can certainly use these in your own programs.
Q: Will I need special equipment to perform these finishers?
A: These finishers were created for the Bootcamp Coach in mind. Many of them are bodyweight only, while some require some basic equipment like a dumbbell. If you're not completely satisfied or it's not a good fit, you can get a 100% refund.
Q: How long will it take to get my product?
A: You will receive instant access where you can download your products in PDF format. You can start in minutes!
Q: What if I don't know an exercise?
A: Don't worry, you get photos and exercise descriptions of all the exercises in the manual and bonuses
Get THREE Addictive Done-for-You Bootcamp Metabolic Finishers Programs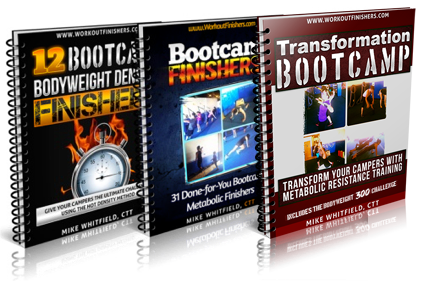 $136.98 Only
$29.99

NOTE: These programs are downloadable exercise routine manuals. No physical products will be shipped. After you order, you will get INSTANT ACCESS to download the exercise routine manual and all the bonus reports onto your computer. The exercise routine manual format is adobe acrobat PDF, which can be viewed on Mac or PC.